Welcome Faithbox Friends to your February Digital Bonuses!
When God Doesn't Fix It 
with Laura Story
Get access to 5 FREE online study videos + FREE art prints!
Is it possible that good things can come out of our broken dreams? What does the Bible say about trials and unanswered prayers - and how do we learn to find joy again when God doesn't fix it?
We'll be studying the Scriptures and finding answers to these tough questions in our new online Bible study When God Doesn't Fix It with Laura Story starting in February! It's going to be a great!
In this study, Laura shares the twists and turns that took place in her own life and will help us see how God may not fix everything or in the way we expect Him to fix things, but God will lead us to a place where we are better because of it.
Register now and get the free downloads, video access, and all the great bonuses you need to get started right away!
FREE Resources with this Study
FREE access to 5 online study videos with Laura
FREE week 1 PDF, from When God Doesn't Fix It Study Guide
FREE chapter of the book to get started
FREE art prints with lyrics to 'Blessings' & 'I Can Just Be Me'
Your prayers have not been answered in the way you expected, or maybe not at all...
You have walked a hard road and that's caused you to question your beliefs and ask "Why God?"
You have found yourself at the holy crossroads of trying to decide whether to turn from God or trust Him with greater abandon
Bonus Downloads When You Sign Up
2 FREE printables with lyrics from Laura Story's "Blessings" and "I Can Just Be Me"
Meet Your Bible Study Teacher: Laura Story
Laura Story is a Bible teacher, worship leader, GRAMMY award-winning singer/songwriter, and bestselling author. Laura's music and writing show God's love and grace intersecting with real life, and serve as a reminder that despite questions or circumstances, He is the ultimate author of our story. She has a graduate degree from Covenant Theological Seminary and is the worship leader at Perimeter Church in Atlanta.
Hear from Laura about this study...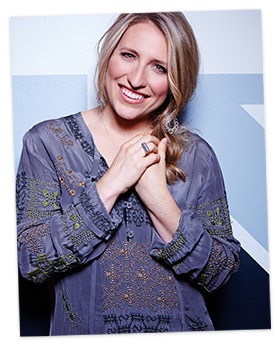 If you had told me ten years ago that my husband's illness would end up being our greatest platform for ministry I would have run screaming in the other direction. Let's be honest. No one asks for a platform of pain or a stage of suffering. Martin's brain tumor and resulting disabilities have been a challenge for us, both physically and spiritually. They have stretched us beyond what we thought possible and even caused us to question the very faith we had held tightly for many years.
I have often wondered why God chose me to walk through this trial so publicly, and many days literally on a stage. My faith is small. Most days I wake up feeling too weak for the task laid before me. But it is in those moments that my heart is reminded of the truth God whispered to Paul in the jail cell—a setting he hadn't asked for either. In 2 Corinthians 12:9, He says to Paul, "My grace is sufficient for you, for my power is made perfect in weakness." Is it possible that God would allow situations into the lives of those who are most weak in order to showcase His perfect redemptive power?
This is why I wrote When God Doesn't Fix It.
It's for for those who have found themselves at the holy crossroads of trying to decide whether to turn from God or trust Him with greater abandon. In many ways it's a story of faithlessness (pun intended) that God has redeemed by His faithfulness. But most of all, it's another way of surrendering my life and story to God, to see His power displayed in ways that I could only dream might be possible.